Please see the new Knowledge Exchanger to dramatically speed up your learning process:
www.praxisemr.com/knowledgeexchanger
The greatest surprise to most of our clients is the speed at which a Concept Processor becomes useful. To understand why, you must first appreciate how we learn to express ourselves.
While the Oxford English Dictionary defines more than 400,000 words, most of us use less than 1500 of them. Yet no two of us use the same set of words! Over time, each of us develops our own set of words that we rely upon for generating our unique discourse.
A similar process occurs at the level of phrases, sentences and text fragments. Our mind seems to store a set of comfortable strings of text that we instantly access subconsciously with extraordinary speed when needed.
With the Concept Processor, these naturally occurring principles are simply transferred to the computer. For example, if you commonly describe a normal abdominal exam as follows: "Abdomen soft, non-tender, liver/spleen not enlarged, bowel sounds normoactive, no masses palpable," then you need not re-enter this text ever again! It is ready to be accessed instantly in the future. The same is true for medications, instructions to patients, laboratory orders, and so on.
And, the bell-shaped curve effect guarantees that this learning is geometrical, growing faster and faster the more you use Praxis. Within a few hours of practice, Praxis is ready to be useful in your clinic.
To learn the program, you will be linked via the Internet to a trained Medical Transcriptionist and Praxis expert. Your trainer's task is two-fold: to teach you how to use Praxis, and to "prime the pump" by having you dictate hypothetical cases, starting from the most common in your practice. What you will quickly find is that with each new "sample" case entered, Praxis increasingly assists with the right text ready at hand. Each case is therefore entered faster and easier until Praxis is ready for use in your real world practice.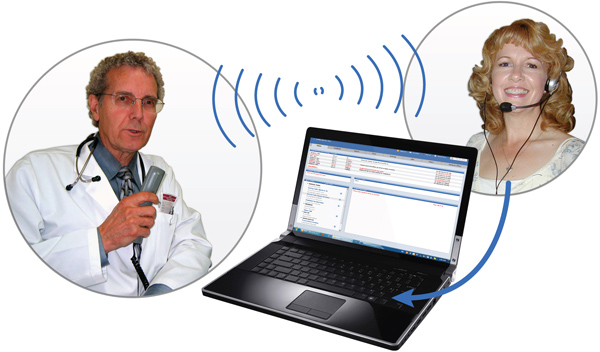 Once in the clinic, the physician starts by entering the simplest cases, then the more complicated ones, and finally the rest. The process is that simple.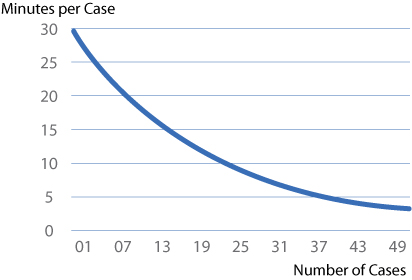 Time that the average case takes to enter versus number of cases entered. Obviously, the learning process gets faster and faster as more cases are seen.


But even when the charting speed reaches its plateau, the quality of charting will continue to improve indefinitely. You will always be building on your own past documentation to make the next case that much better.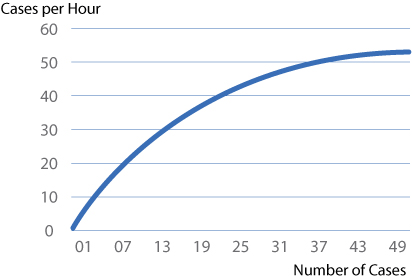 Average speed of cases that may be charted per hour