The federal government is offering medical practitioners the opportunity to earn bonuses of up to $44,000 under Medicare and $63,750 under Medicaid. These bonuses are part of the EHR Incentive Programs, which were established and funded under the healthcare provisions of the American Recovery and Reinvestment Act. The goal of the incentive programs is to encourage the widespread use of electronic medical record systems across the United States.

To be eligible for the maximum bonus amount, physicians must register by 2012 for the Medicare program and by 2016 for the Medicaid program. Additionally, they must demonstrate meaningful use of a federally certified EMR.

Praxis EMR v5 has been certified by the Drummond Group (ONC-ATCB) as a complete EHR under the U.S. Department of Health and Human Services' Meaningful Use Program. *

Please click here to review the Praxis ONC-ATCB Certificate of Compliance.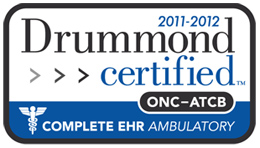 CMS EHR Certification ID:30000004QR99EAC

Just how do you demonstrate meaningful use? As a Praxis user, you have nothing to worry about. The Praxis EMR training and support staff (ranked #1 in the AAFP 2009 EHR User Satisfaction Survey) will be with you every step of the way.
Visit this space periodically to read about the latest developments.
At Praxis, we have always been driven by a single goal: to help you practice quality medicine. Our staff works day and night to make sure that doctors who work more than 60 hours a week, who are continually stressed, who are fearful of being sued, who are thinking about the well-being of their patients all the time, get a product that will help them deliver quality care.
With Praxis EMR, you will secure the EHR incentives that you rightfully deserve.