Praxis EMR Takes Top Rankings in Health Maintenance and Training and Support
Canoga Park, CA, July 14, 2011 - Praxis: The Template-Free EMR received first place rankings in the American Academy of Family Physicians' (AAFP) 2011 EHR User Satisfaction Survey. As in past AAFP surveys, Praxis EMR ranked towards the top in all categories, with number one rankings in the areas of Health Maintenance and Training and Support.
"We are excited to have once again received number one rankings in the AAFP's EHR User Satisfaction survey," said Praxis CEO Richard Low, M.D. "It is a testament to the hard work and dedication of our customer support team to have ranked first in Training and Support for the third consecutive survey."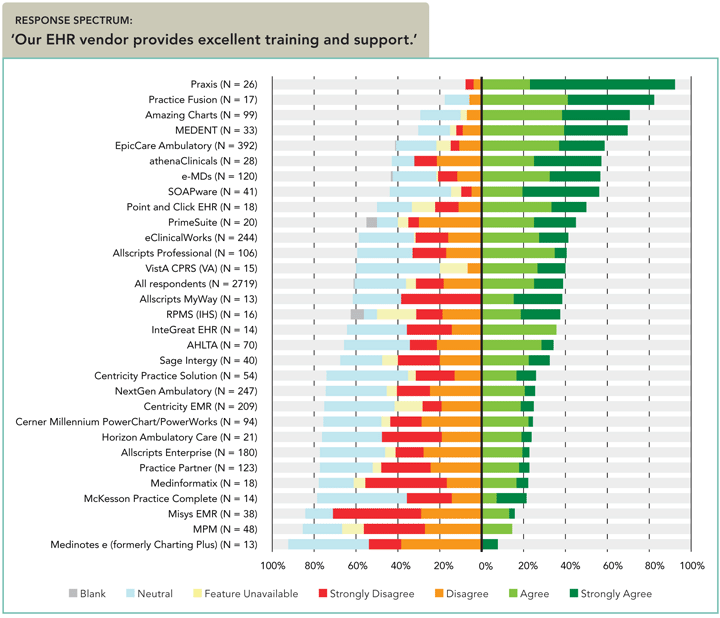 Caption: Praxis EMR far outranks the competition in Training and Support. Reprinted with permission of the AAFP, Family Practice Management, July - August 2011.

The survey states, "The area of lowest satisfaction is EHR vendor support and training . . . Clearly vendors have some work to do in this area." Praxis has nearly 90 percent satisfaction in that area among survey participants.
The AAFP EHR survey is conducted every two years. It is the largest, most objective survey of EHR User Satisfaction in the industry. This year, 2,719 physicians participated in the study, rating 30 leading EHRs in 17 areas. Praxis EMR has consistently ranked number one in the survey. In 2009, Praxis ranked first in Higher Quality Medicine, Disease Management, Health Maintenance, and Training and Support. In 2008, Praxis ranked number one in Overall User Satisfaction, Ease of Use and Flexibility, Support and Training, and Return on Investment.
About Praxis EMR
Award winning Praxis EMR is the leading innovator of Electronic Medical Records software, serving thousands of physician-users across the U.S. and throughout the world. Instead of relying on templates, Praxis utilizes revolutionary technology that self-learns directly from the doctor as he/she documents medical cases in free text. Praxis EMR's unique approach to medical charting makes it the most usable EMR on the market today. Its focus on clinical usability consistently earns it top ratings in physician user satisfaction surveys. To view a free Praxis demo, visit www.praxisemr.com.
Contact: Oliver Hager: oliver.hager@praxisemr.com, 818-592-2900, ext. 5