Have you ever contacted a company's customer support team for help, only to feel like they're giving you the runaround?
Nearly one in ten health care professionals say their EMR vendor's customer support is so bad that they want to get rid of the system altogether, according to a Software Advice survey of medical software buyers.

This statistic may not seem significant, but consider that
approximately 83 percent
of U.S. doctors are using EMRs, which can cost
vast sums of money
to implement, license and/or maintain.
That means there are thousands of frustrated physicians out there feeling like they've wasted millions of dollars on an unresponsive software company.
Don't get stuck with an unsupportive health IT partner. A good vendor should provide stellar service during the implementation period and after.
In this article, we'll look at five widely-used EMR vendors with the best customer support ratings on our website. We started by identifying popular systems, then consulted our proprietary ratings data to calculate which ones rank highest in the "customer support" category (full methodology detailed at the end of this report).
Here's what we'll cover:
---
Praxis EMR
Medios EHR
Benchmark by AntWorks
RxNT EHR
InSync
Conclusion: EMR Software Support Checklist
---
Praxis EMR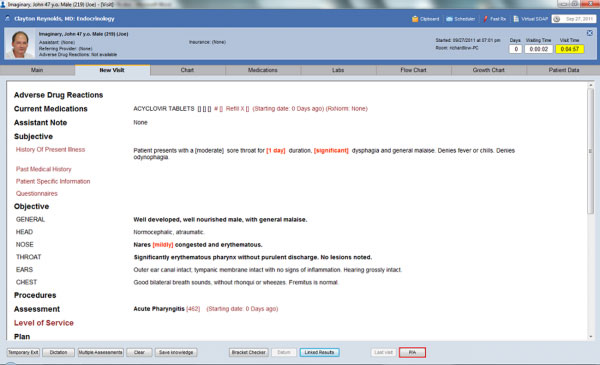 Main patient window on Praxis EMR

Customer support rating: 4.96 out of five stars.
System overview: Praxis EMR is available as either a cloud-based or an on-premise system. It does not have any templates for clinical documentation. Instead, users can customize the way they complete patient charts in the system to suit their particular note-taking style.
EMR software support highlight: Praxis EMR's support team is available through phone or an online chat feature called "LiveSupport" on weekdays from 8 a.m. to 8 p.m. EST. They also offer a customer support portal, where you can submit support tickets, ask questions in a community forum, read manuals and get instructions on how to troubleshoot common issues.
EMR implementation support highlight: This vendor provides every medical practice with a personal software trainer, in addition to an implementation manager. Training sessions can take place online, onsite or both.
What users say: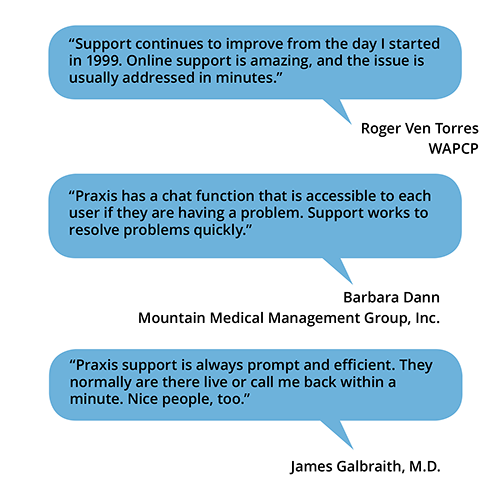 Do you use Praxis EMR? Write a review here.

Click here to read the full article
Source: https://www.softwareadvice.com/resources/top-rated-emr-support/, Software Advice, written by Gaby Loria