3 Top-Rated EMR Solutions-How Does Yours Compare?
Keeping on top of the electronic medical records (EMR) software market can be intimidating for small medical practices. Newer and better EMR systems seem to be launched every day, which can make the process of choosing the best EMR for your practice overwhelming.
It's important to remember that the best EMR system is the one that best suits your practice. If the system you choose doesn't address your specific needs, you're likely to cause frustration among physicians while spending money on features you don't need.
To determine the best choices among the ever-increasing EMR market, we analyzed real user reviews to find the three most highly rated systems based on overall ratings. You can view the top rated EMR options, view screenshots and discover what features set each solution apart.
Praxis EMR
Suitable for small and midsize practices, Praxis EMR is a highly customizable EMR that uses artificial intelligence (AI) technology called Concept Processing rather than templates. This technology learns the way each physician operates and adapts to their individual needs.
Praxis EMR allows physicians to create, customize and share their reports and documents per their own personalized approach. Its Knowledge Exchanger feature allows physicians to share their medical knowledge with peers in the same practice, as well as other medical experts using the same software at another practice.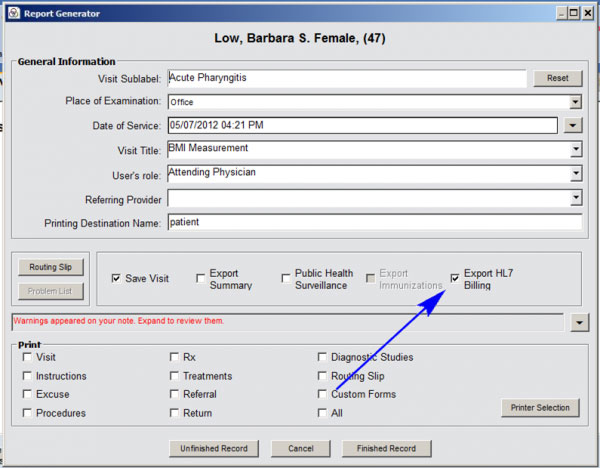 Report generator and export billing feature in Praxis EMR
The software is ONC-ATCB certified and offers features such as patient portal, narrative reports, e-prescribing and lab integration. The software is deployed in the cloud and offers a single per-month pricing plan that includes all features, implementation and full clinic training.
THE KILLER FEATURE: Praxis EMR Agents work as smart AI messengers for physicians, communicating with patients on their behalf. They enable physicians to send reminders to their staff and do quick patient charting.
In addition, Agents generate all the previous existing medical records and data that could be useful for new patients, thus allowing physicians to refer to and use existing information to treat patients.
InSync
Suitable for solo physicians and small to midsize practices, InSync is a fully integrated solution that offers EMR as well as practice management and revenue cycle management capabilities.
Its mobile app is available for Android and iOS devices, and it offers quick access and file-sharing functionality, letting physicians provide patient care anytime from any location.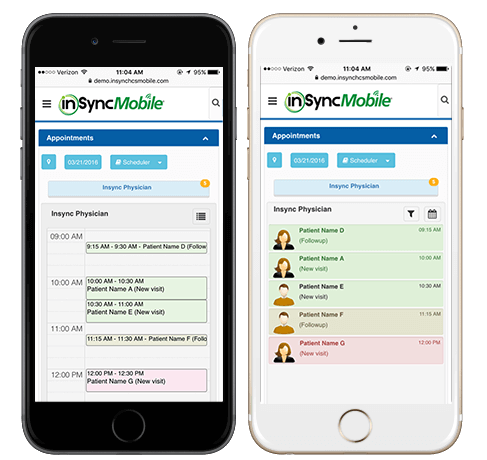 Schedule patient appointments through InSync EMR mobile app
The software is certified for ONC-ATCB and meaningful use. It offers features such as patient portals, appointment management, charting, e-prescribing and voice recognition capabilities. InSync EMR offers both on-premise as well as cloud deployment.
THE KILLER FEATURE: InSync EMR offers an automated scribe tool, InSyncScribe, which offers end-to-end dictation capture and transcription. The tool takes care of all documentation by entering the physician's dictation directly into the EMR, which allows physicians to focus completely on the patient in the exam room.
ChARM EHR
Suitable for small and midsize practices, ChARM EHR is a cloud-based solution that is accessible from any device with an internet connection, including mobile phones, iPads and other tablets, thus providing physicians greater mobility.
Its SOAP templates feature allows physicians to quickly document patient visits and allows them to customize templates according to their specific requirements and specialties.
Dashboard of ChARM EHR
The software is certified for ONC-ATCB and meaningful use. It offers features such as clinical decision support, e-prescribing, document management, appointment management, patient portals and voice recognition capabilities.
Its pricing is unique: It charges users per patient encounter instead of charging a fixed monthly rate. In addition, it offers a free edition of its EHR for up to 50 patient encounters per month.
THE KILLER FEATURE: ChARM EMR offers a patient check-in kiosk that helps small medical practices streamline the patient check-in process. The information from these kiosks is instantly transferred to the patient chart.
Source: 3 Top-Rated EMR Solutions-How Does Yours Compare?, Software Advice, by Rahul Kumar, July 9, 2018.