What are the best EHR systems for Small Practices?
The key to finding the best EHR/EMR (Electronic Health Records or Electronic Medical Records) system, with the right features and at the right price is to ask yourself what your practice needs the most in an EMR - and what it really does not need in the way of added bells, whistles, and fees. If you are a solo, private, or small practice, then most likely you are looking for high quality EHR with the most bang for the buck. Also, it's more than likely that you are looking for a low cost EHR system that is fast, easy to use with all the features and capabilities to take your clinic paperless. To narrow down your EHR search, it's vital to investigate what systems your peers are recommending, and which sysmtems rate the best by practicing physicians. Which systems are the top EHRs for 2022? Superficially, what are the best EHR systems for today's small and private practice when asking other software users?
According to Software Advices' FrontRunners Top EHRs Report from 2019 below, and to 2022 today, these are the Best EHRs for Small Practices bases on real EMR users feedback and reviews.
The EHR "FrontRunners" quadrants ranks EHR leaders that offer the best Usability with the highest User Recommended scores.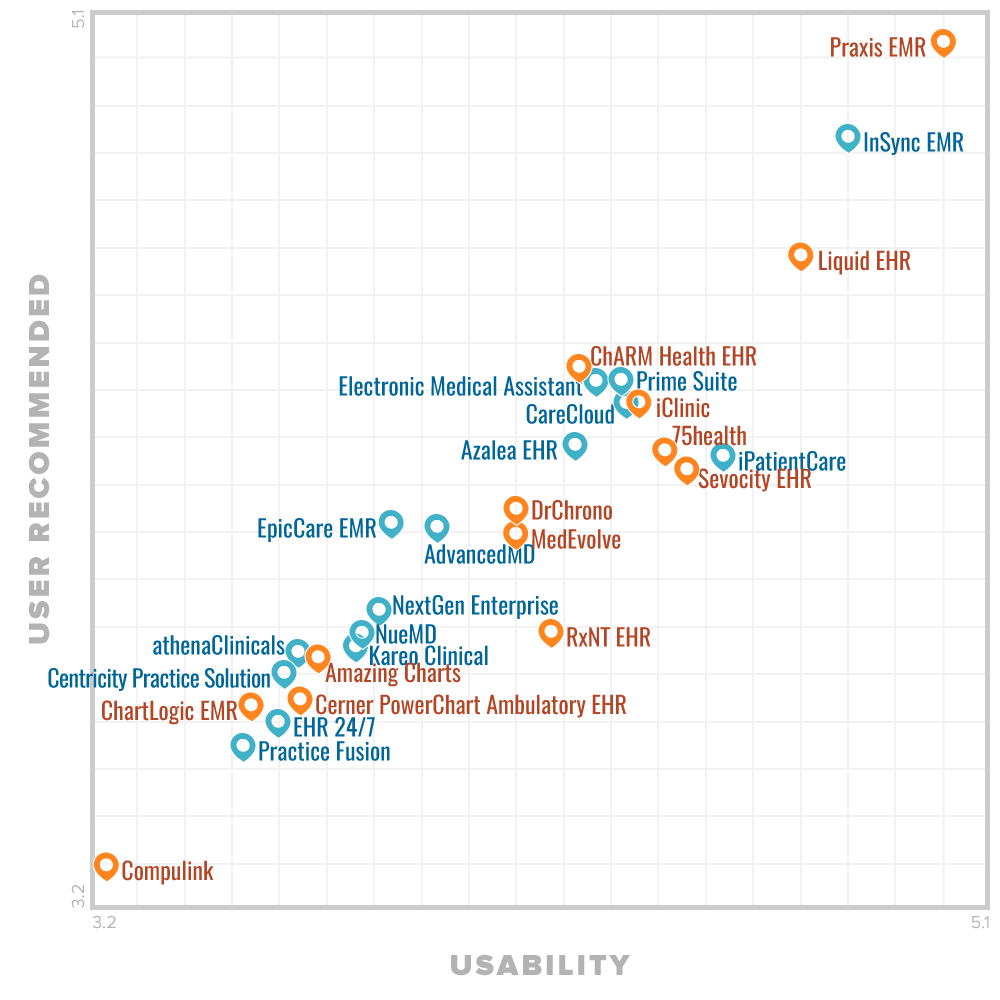 Products Scored Based on User Reviews
Software products were scored in two areas-Usability and User Recommended-based on actual user ratings. EHRs have to offer a core set of functionality-for example, they must be able to create and store digital patient records, generate E/M codes, provide decision support, retain ONC-ATCB certification (meaning the system meets standards set by government health officials) and more. From there, user reviews dictate the Usability and User Recommended scores.