Software Advice Ranks Praxis #1 in EHR Usability
Software Advice by Gartner, the world's leading research and advisory company featuring online reviews of Electronic Heath Records, ranked Praxis EMR number one in usability. Praxis ranked first place after a review of 140 Electronic Health Records systems, earning the best overall score in Usability and the highest User Recommended score.
Number One at The American Academy of Family Physicians EHR User Satisfaction Survey
The American Academy of Family Physicians (AAFP) conducts the largest, most objective survey of EHR User Satisfaction in the country. It does so by tapping into the first-hand experiences of its nearly 120,000 strong physician user base. The results are published biennially in the AAFP's Family Practice Management (FPM) journal to help colleagues make informed decisions when it comes to purchasing an EMR.
Results of the survey do not imply American Academy of Family Physicians endorsement of this or any other product. The stated goal of the AAFP User Satisfaction Survey is to collect and share feedback from practicing physicians, "not to pick EHR system winners in terms of user satisfaction."
Praxis EMR has been ranked #1 in all EHR User Satisfaction Surveys over the past twelve years.
Please review the AAFP User Satisfaction Surveys for EHR advice from thousands of colleagues.
#1 Rankings in 2015-2019 - Latest - #1 Overall-Rated EHR
Praxis EMR was the #1 EHR in the survey of 73 EHR systems, with zero negative responses to the statement, "I am happy with our new EHR system."
#1 Rankings in 2012 - 2014 - #1 Overall-Rated EHR
Praxis had more #1 wins than any other EHR.
Based on over 3000 responses and 31 EHRs Praxis was the only EHR that saved doctors time and allowed them to focus on their patients.
#1 Rated in the following categories:
"I am highly satisfied with this EHR."
"I enjoy using this EHR."
"I can see more patients or go home earlier."
"EHR notes promote better patient care."
"I can find information easily and efficiently."
"EHR clearly displays information/no clutter."
"EHR helps avoid me making mistakes."
"I can complete tasks efficiently."
"EHR helps me focus on patient care."
"EHR alerts are concise, appropriate, helpful."
"EHR offers useful disease management tools."
"EHR offers useful preventive medicine tools."
"Messaging/tasking is fast, easy, effective."
Praxis had more #1 wins than any other EHR.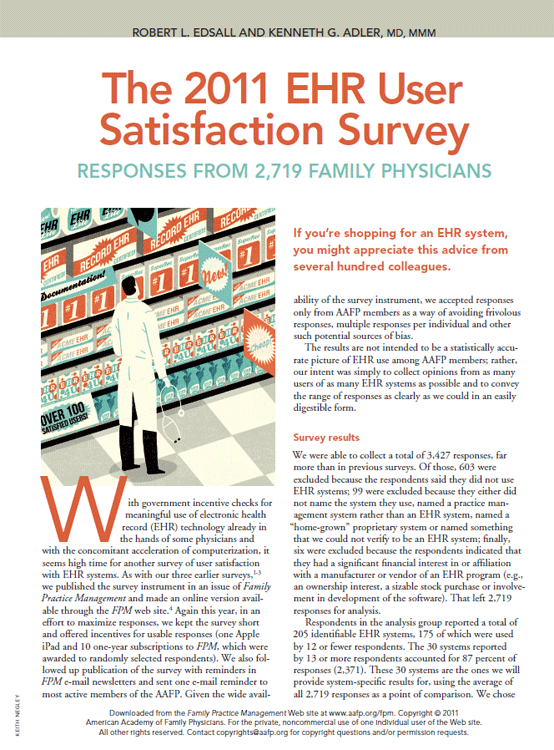 #1 Rankings in 2011
"Health Maintenance."
"Training and Support."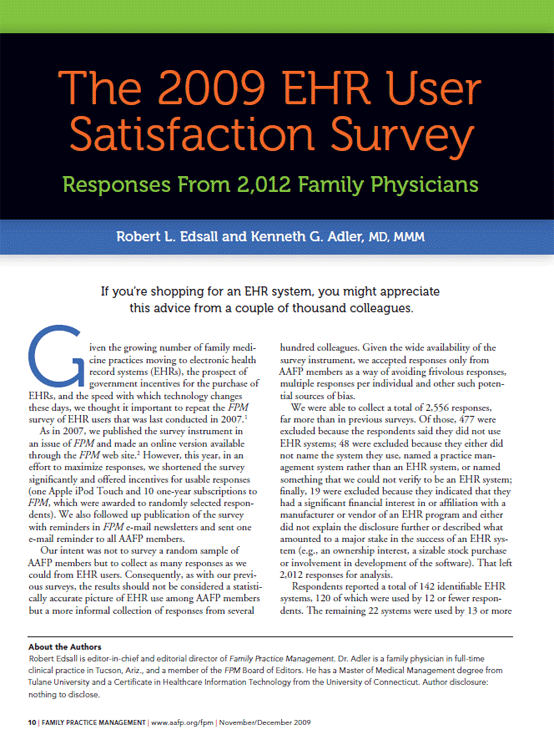 #1 Rankings in 2009
"Medical Quality."
"Health Maintenance."
"Disease Management."
"Training and Support."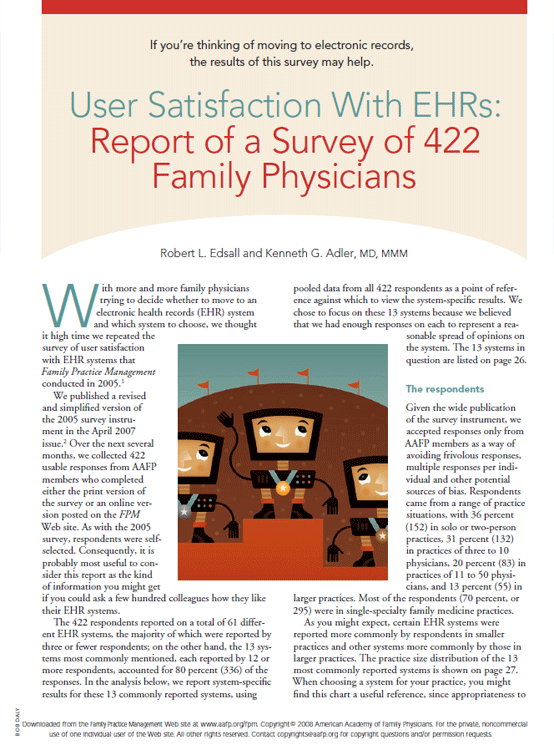 #1 Rankings in 2008
"Overall Satisfaction."
"Ease of Use and Flexibility."
"Support and Training."
"Return on Investment."
AmericanEHR Partners Survey: Praxis Tops the Charts
#1 (First Place) Rankings for March 2020
User Satisfaction
Overall Usability
Prescribing
Workflow Management
Order Management
Population Management
Training
Interfaces
Support Experience
Praxis earned more #1 awards than all other EHRs combined.
AmericanEHR Partners is managed by Cientis Technologies and the American College of Physicians.
HIMSS Davies Award for Excellence in Electronic Medical Records
The prestigious HIMSS Nicholas E. Davies Award recognizes excellence in the implementation and value from health information technology, specifically EHRs.
- Praxis user Jeremy Bradley, MD was honored with the award for his use of EMR in an ambulatory setting. Dr. Bradley used Praxis to transform his practice, increasing his patient load, improving medical quality, and increasing revenues. Using Praxis EMR's template-free quality measures, Dr. Bradley's clinic received recognition for diabetes and hypertension maintenance and was named the first patient-centered medical home (PCMH) in Kentucky by the National Committee for Quality Assurance.
- Praxis clinic Alpenglow Medical PLLC, located in Fort Collins, CO, and headed by Dr. Daniel Griffin, received the award, having demonstrated outstanding EMR performance in four areas of evaluation: management, functionality, technology, and value (concrete return on investment).
KLAS Gives Praxis EMR Straight A's
KLAS Research is a trusted source for objective information on health IT. KLAS conducts interviews and surveys, and issues reports on a variety of medical-related hardware and software, including electronic medical record software. In an October 2010 KLAS report on EMR packages by specialty, Praxis EMR received an "A" grade in the Family Practice Specialty.
Rated #1 in Family Medicine
Rated #1 in Internal Medicine
A Praxis EMR client was honored with The National Committee for Quality Assurance (NCQA) Patient-Centered Medical Home Recognition Award
NCQA's Patient-Centered Medical Home is an innovative program for improving primary care. In a set of standards that describe clear and specific criteria, the program gives practices information about organizing care around patients, working in teams and coordinating and tracking care over time.
Frost & Sullivan Technology Innovation Award
The market research firm Frost & Sullivan conducts extensive analysis to determine how best-in-class companies worldwide manage growth, innovation and leadership. The firm has honored Praxis EMR with two prestigious awards. Praxis EMR received the Technology Innovation Award for Datum, a feature unique to Praxis that enables users to embed data in free text while charting, as well as to build and run unlimited queries. Praxis also received the Healthcare Technology Innovation award for the Praxis Knowledge Exchanger, a groundbreaking feature that enables doctors to share their medical knowledge bases with each other.
Black Book Rankings:
Praxis #1 Choice for Solo and Small Practices
Black Book Rankings, a division of the Black Book Market Research LLC, ranked the top EMR vendors based on 18 performance-based indicators. From their four-month survey of 5,700 healthcare providers in offices with 1-5 physicians, Praxis EMR came in at #1, with the highest customer satisfaction rating among 349 different EHR software companies. In addition to taking the top spot for the solo and small market segment, Praxis EMR also took #1 in the field of internal medicine.
A+ Rating from the Better Business Bureau
The Better Business Bureau has been the authority on trust in the marketplace since 1912. As a BBB accredited business, Infor-Med Corporation is committed to making a good faith effort to resolve consumer complaints. Infor-Med Corporation has received an A+ rating from the BBB, making it one of the most trustworthy corporations in the U.S.