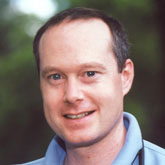 Dr. Daniel Griffin
Fort Collins, Colorado.
Dr.Daniel Griffin graduated from New York University School of Medicine and founded an award-winning internal medicine practice in Fort Collins, Colorado. Dr. Griffin is the winner of the 2006 HIMSS Davies Award for Excellence in Ambulatory Care.
"Our goal is to deliver efficient, quality healthcare with no patient waiting time and 100 percent patient satisfaction. Praxis EMR is a key component to achieving this goal."